*If you're in a hurry or a "Just the Unknown Knowns please, skip the ramblings" type of person, skip down to the last paragraph*
Holy cow. It seems these days that my apologies for not posting outnumber my actual postings. This is getting rather ridiculous. Work (at an undisclosed location) and slow-pitch softball have really eaten my time. Really.
For anyone wondering, NO, the big project has *NOT* been abandoned. At all. In fact, I've continued to do some serious brainstorming, and very preliminary work is underway already. So take heart.
I couldn't bring myself to leave a post solely filled with bland textual ramblings so I offer you the following: 1) A sneak preview of my first blategory (
What's a blategory?
), and 2) a crazy picture I fairly quickly threw together for fun a couple days ago using the very cool and totally free, open-source program that is strikingly similar to the ridiculously expensive Adobe Photoshop, called
The Gimp
.
Okay, so this preview is very small and unhelpful, but as you can see, it will be very, very cool. Seriously. Let me also add that this clip is nothing compared to the craziness of the full picture. I'm still not sure it was a wise picture to have taken...but I'm willing to risk it for my loyal fanbase.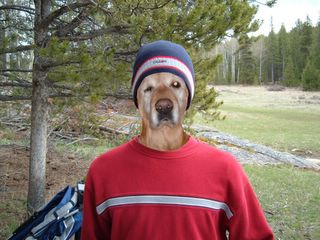 Yes this picture is weird. But what would you expect? Mixing my step-brother and family dog, Caleb can't result in anything even resembling normal. However, I think the real weirdness is not the dog's snout as a face, but rather the beanie. Why he insists on wearing a beanie in 90 degree weather, I'll never know... And Caleb, if you ever see this, I'm sorry for making you look so bad.
Anyway, in conclusion, you can look for my first blategory to be completed sometime on Saturday. For those of you on my email list, I'll let you know as soon as it's finished.