Iraq's Interim Leader to Visit White House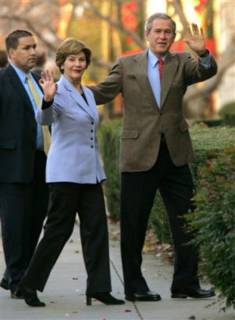 President Bush (at right) seen here with interim Iraqi leader Ghazi al-Yawer (center)
Huh. Is it just me, or has Iraq gotten a whole lot more progressive since Hussien left town? Seriously, a woman leader?! Way to go! I think that's just gre...wait a minute...that looks like...Laura Bush?! Oh. I get it now. It was all a big mistake. The war wasn't about oil after all - Iraq was W's anniversary gift to the first lady!!
Unbelievable
.
McCain hits Pentagon
As one congressional official said, "Ouch."
Yeah. You know, Mr. McCain, I know you're upset and everything, but if you want to use the whole "self-torture" thing to get everyone's attention, I'd suggest
starving yourself
. I think that might work a little better.
Source: Police take sample of Jackson's DNA
Great news: Sometime this week, officials will be able to determine whether or not Micheal Jackson is actually
human
.
Capsizing boat kills illegal migrants
Wow. Two big thumbs down on this headline. When I first read it, I just guessed it was some kind of sick "How-to" book for xenophobes.